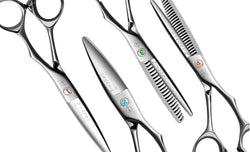 Mizutani
ICHI-NINO-SAN – 4 Scissors Set
A dream set of the four most popular Mizutani Scissors for all your styling needs. Each scissor is $450.00 if purchased individually ($600 saving!). Don't miss this super deal.
Comes with a genuine case.
Ichi-Nino-San #1
One of the scissors for precision hair cutting. Good for point cutting, slide cutting and some dry cutting. Cat's eye blade give your versatility for all around cutting.
Ichi-Nino-San #2
Designed with thick blades that allow for easy slide and dry cutting. Ich No 2 with Ichi No 1 will cover all of the current cutting techniques.
Ichi-Nino-San #3
A texturizer with a 25% cutting ratio that can be angled from 15 – 90 degrees. Stylist will be able to creat all sorts of texture to the haircut.
Ichi-Nino-San #4
A thinning/blending tool that has a 15% cutting ratio. Stytlist can use it after scissor over comb for better blending. The combination of Ichi No 3 and Ichi No 4 will create any texture to the hair.
Flat screw that can be adjusted from the back.
Removable tang.
Number can be removed per request.