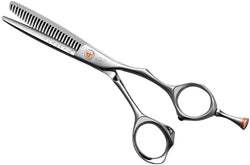 Mizutani
ICHI-NINO-SAN #4
ICHI-NINO-SAN #4
A thinning/blending tool that has a 15% cutting ratio. Stytlist can use it after scissor over comb for better blending. Combining Ichi #3 and Ichi #4 creates any texture desired to the hair.
Flat screw that can be adjusted from the back.
Removable finger rest/tang.
Number can be removed per request.
• Cutting Ratio 15% • Blade/Teeth Position: Regular